• Your Friends at Opalberry • customer artwork • customer highlight • customer review • customer spotlight • highlight • paint by numbers • paint by numbers for adults • steve henderson • Stolen Kiss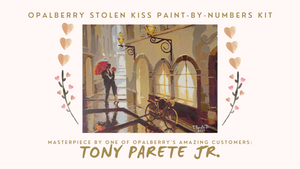 Tony's 
Stolen Kiss masterpiece
 perfectly captured how love overflows and overpowers as you reach for a stolen kiss between the stone walls. Just by looking at it would remind you of the warmth of your special love's kiss, wouldn't you agree? 
---
• Fiona Clemente • fine arts • Morning Glory • new designs • Ocean Breeze • paint by numbers • paint by numbers for adults • pbn • Sailing on the Sound • Shore Leave • steve henderson • Stolen Kiss • Sunrise on the Columbia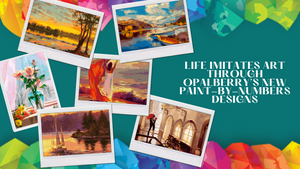 The best of Spring is finally here as we invite you to bring to life the new designs for Opalberry's paint-by-numbers kits! Curated from some of fine artist Steve Henderson's best works, these new awe-inspiring designs will help you escape the everyday buzz and give you your well-deserved de-stressing time whenever you need it.